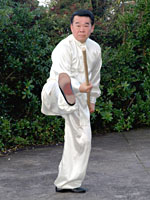 Tai chi originally became famous as a martial art. Early exponents were so well regarded for their skill that they taught the guards of the Emperor of China and found work protecting merchants from bandits. It was the excellent health of people who had learnt the martial art which led to tai chi's fame for promoting health and longevity.
Self defence for everyone
Tai chi is a safe and non-aggressive alternative for people who would like to learn self-defence. Even if martial skill is not one of your goals, we believe that this traditional training will make tai chi more interesting and more rewarding for you.