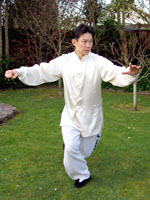 It's well known that just 20 to 30 minutes of exercise every day will improve our lives. Like any exercise, tai chi improves your fitness and makes your muscles, bones, heart and lungs stronger. Tai chi is an exercise that anyone can do, and it uses natural, comfortable movements that are gentle on the joints. It is enjoyable and does not unduly stress the body.
The Chinese tradition
Performed properly, tai chi is a form of chi kung (qigong). In Chinese culture, it is widely respected as an exercise that promotes overall good health and a calm mind. When taught according to traditional methods, tai chi is a discipline that fully engages you. There is a constant process of learning and improvement that means you will stay fascinated; many who start tai chi just for exercise continue doing tai chi for their whole lives.